River length: 1400 km
Basin area: 258,948 sq km
Population in basin: 135 million
States in basin: Maharashtra, Karnataka, Telangana, Andhra Pradesh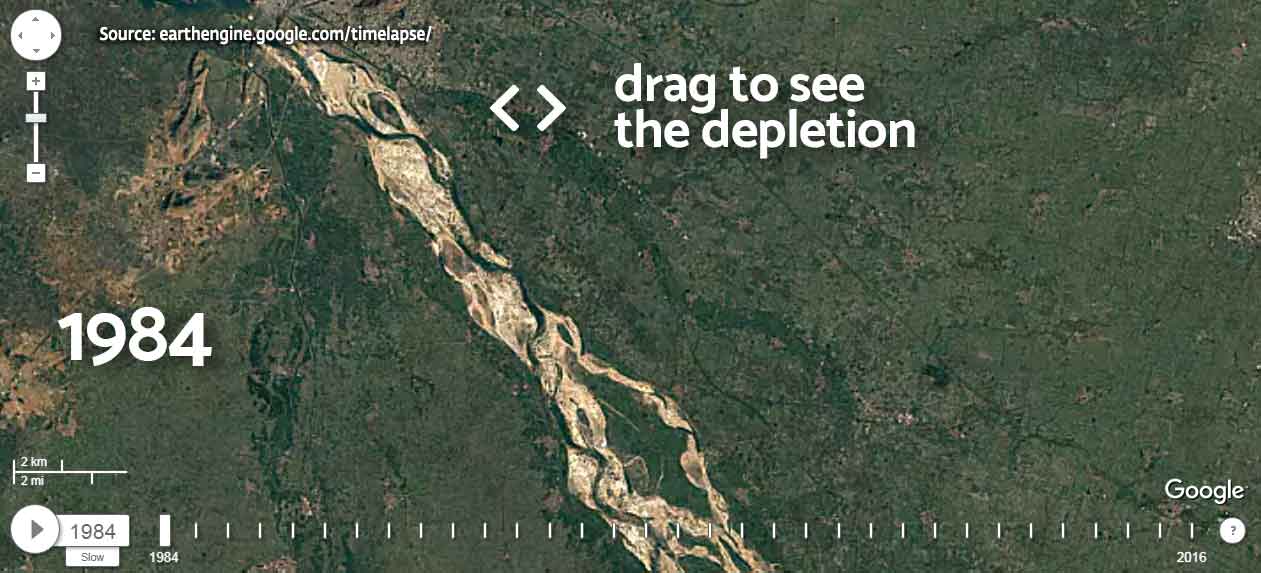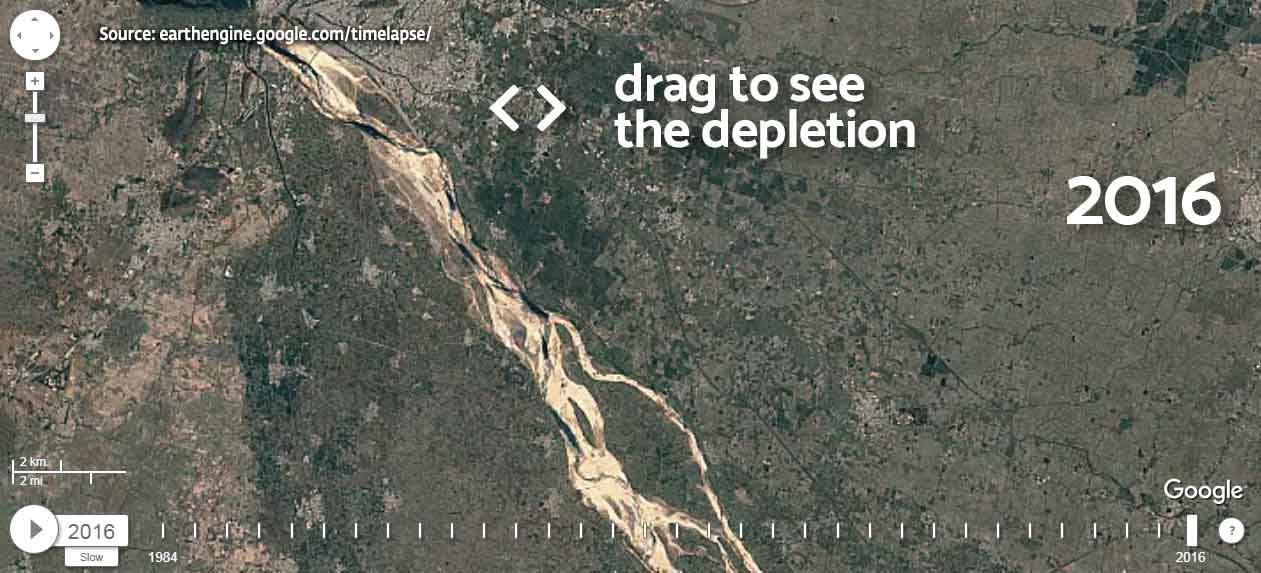 Major cities using water
Chennai (pop: 7 million), Hyderabad (pop: 6.8 million), Vijayawada (pop: 1 million)
River Depletion
Water depletion: 61%
Dry season drought risk: Medium
Monsoon flood risk: High
Total tree cover loss: 97%
Seasonal variability of water levels: High
Economic & Environmental Significance
The Krishna river region is a place of intensive agricultural activity. Over 75% of the land area is agricultural.
The Krishna and Godavari deltas are very close to each other. Together, they support almost 10 million people in an area of 12,700 sq km.
The Krishna Wildlife Sanctuary, located where the Krishna meets the Bay of Bengal, contains one of the last remnants of mangrove forests in South India. It is home to a unique ecosystem that includes estuarine crocodiles, smooth-coated otters and serpent eagles.
The Great Indian Bustard Sanctuary is one of the last refuges of the Great Indian Bustard. There are only about 250 of these birds left in the wild. The sanctuary is located near Sholapur, near the Bhima river, a tributary of the Krishna.
Recent Disasters
In October 2009, Andhra Pradesh moved from drought to flood as the Krishna recorded its highest flood levels in a century, marooning 350 villages and leaving millions homeless. This happened just six years after a prolonged drought from 2001 to 2003 reduced the Krishna to a trickle. It barely reached the ocean during this entire three-year period.
Spiritual & Cultural Significance
One of the twelve Jyotirlingas is located at Srisailam, on the banks of the Krishna. The Amareshwara Swami temple at Amaravati and the Kanaka Durga temple at Vijayawada are other famous temples along the river.
The Bhimashankar Jyotirlinga is the source of the river Bhima, a tributary of the Krishna.
The poet saint Basava's samadhi is located at Kudalasangama, where the Malaprabha meets the Krishna. Basava referred to Shiva as Kudalasangama Deva in his poems.
It is from the banks of the Tungabhadra, Krishna's tributary, that the mighty Vijayanagar empire grew. At its peak, the capital city, Hampi, had a population of over a million, and was the largest city in the world at the time.
References
Read More