River length: 1465 km
Basin area: 313,812 sq km
Population in basin: 142 million
States in basin: Maharashtra, Telangana, Andhra Pradesh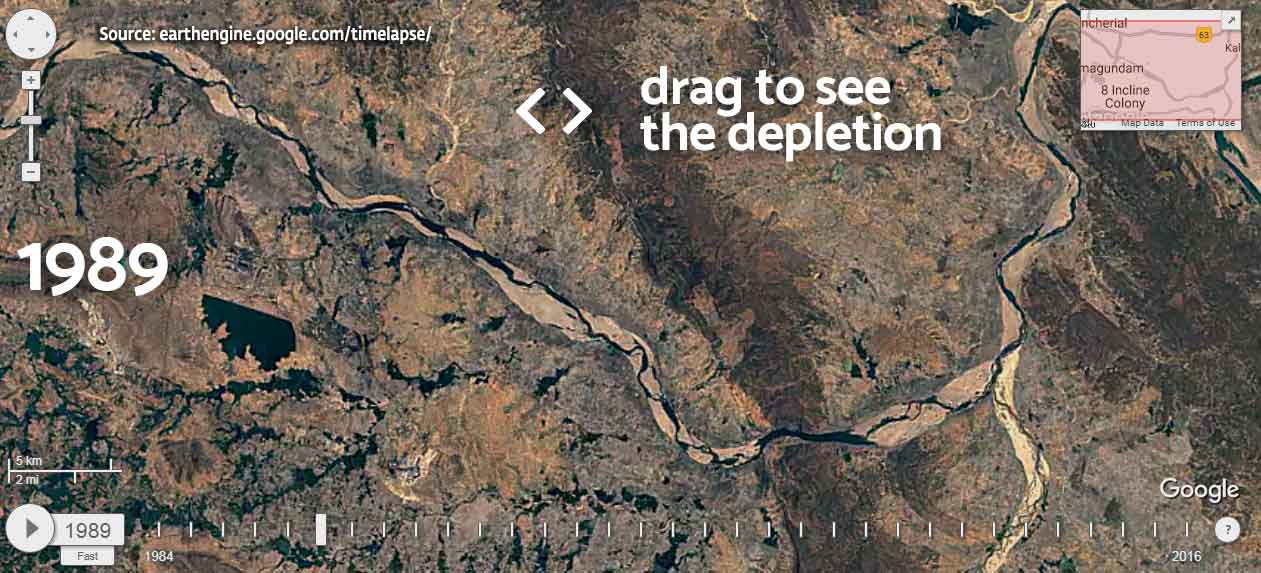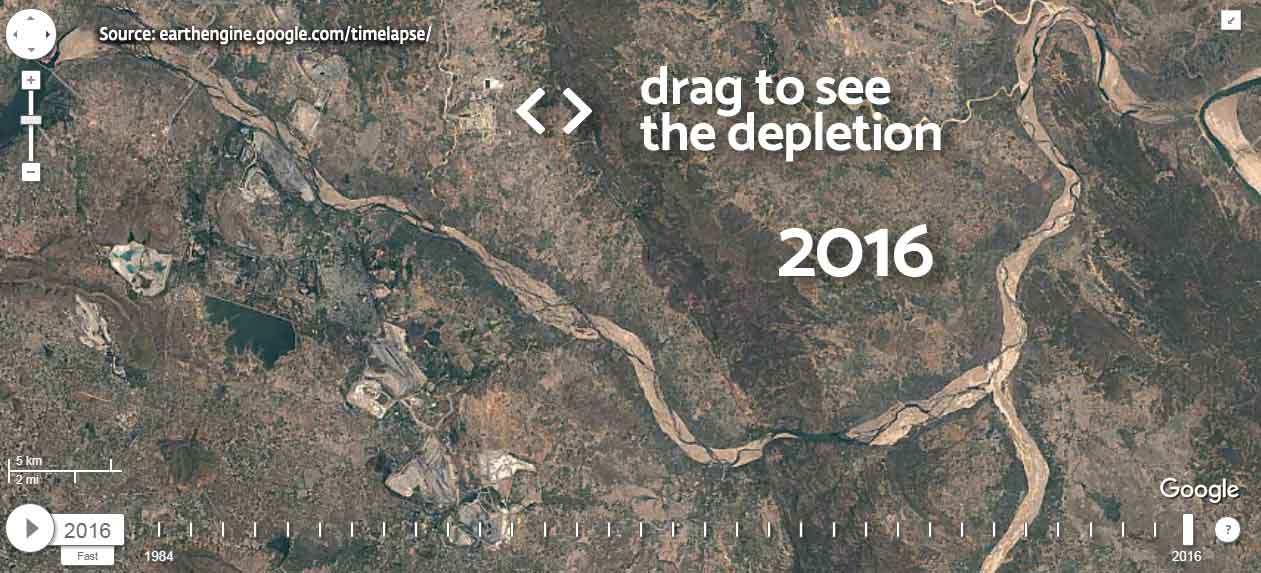 Major cities using water
Hyderabad (pop: 6.8 million),
Nashik (pop: 1.5 million),
Aurangabad (pop: 1.2 million)
River Depletion
Water depletion: 20%
Dry season drought risk: Medium
Monsoon flood risk: High
Total tree cover loss: 88%
Seasonal variability of water levels: Extremely high
Economic & Environmental Significance
Being the largest peninsular river, Godavari is especially significant for agriculture in the area.
The Godavari and Krishna deltas are very close to each other. Together, they support almost 1 crore people in an area of 12,700 sq km.
The Godavari is also an important inland waterway, and is considered a National Waterway.
Recent Disasters
In 2016, the Godavari flooded not once, but twice – in June and July. Flooding occurred in all three states that the river passes through. In Andhra alone, floods forced 543,000 people from their homes. Rewind two months and what do you have? The Godavari going dry at its very source in Nashik. During the Kumbh Mela at Nashik, ground water had to be pumped into the river for devotees to take a dip.
Fast-forward one year to the summer of 2017, and Andhra Pradesh and Telangana were almost in drought as both Krishna and Godavari were at low levels. Such alternating flood and drought situations are present in almost all of India's major rivers.
Spiritual & Cultural Significance
Triambakeshwar, where the Godavari originates, is one the twelve Jyotirlingas in India. Triambakeshwar is one of the four places where the Kumbh Mela takes place every twelve years. It is said that Goraknath, one of India's most revered mystics, was born on the Godavari's banks. There are numerous ashrams and temples of the Nath Sampradaya along the river's banks.
Guru Gobind Singh, the tenth Guru of the Sikhs, declared the Guru Granth Sahib as Sikhism's eternal Guru at Nanded, on the banks of the Godavari. One of India's most well-known Saraswati temples is located along the Godavari at Basar. This temple to the Goddess of Learning is representative of how the Godavari has nourished many ancient centers of learning – Basar, Dharmapuri, Kaleshwaram, Bhadrachalam and Draksharamam, to name a few.
Many of the peninsula's greatest dynasties grew along the Godavari's banks. Two thousand years ago, the Satavahanas were so enamored by the Godavari that three of their four capitals were located along its banks. The Kakatiyas and the Vengi Chalukyas were other great dynasties that grew near the river.
The poet-saint Dnyaneshwar penned the Dnyaneshwari along the river's banks. Two thousand years ago, Gunadhya wrote the Brihat Katha, one of ancient India's classics, in the lost language of Paisachi.
References
Read More